GardCharge
Bluetooth Smart Series
GardCharge GC101
Smart USB Timer Charger Protector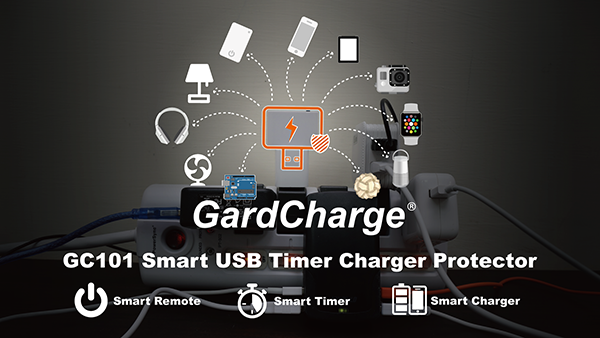 GardCharge takes away modern day worries

Nowadays almost everyone has a smart phone; and that charging smart phone has become our daily ritual, especially at the night time when the majority of people would charge their phone.  And for many them, they do worry about charging the phone overnight with overheating safety concerns for themselves, their elderlies, and their children.
That's why we designed GardCharge to address overnight battery charging concerns by stopping the charging process when the Smart Phone or Power Bank charging process is complete, or by a fixed countdown timer to shut down the power at a given time duration.  And that GardCharge will physically disconnect the power from your USB Cable to your Smart Phone or Power Bank; thus,  GardCharge not only will make you sleep better at night with battery charging safety protection, but also GardCharge will prolong your Smart Phone's battery life by keeping the battery cool without the excess heating generated by more than required charging process.
GardCharge with Simple to Use Power Safety Protection

GardCharge is very user friendly.  To install, simply connect GardCharge in between the Power Adaptor and the USB Cable that leads to your Smart Phone or Power Bank, and you are ready to go with power safety protection.  And a press on the RESET button immediately after the charging connection will ensure a fresh new cycle of Count Down Time for charging (with default of 6 Hour, and can be changed to 00:01 ~ 23:59 in Hour:Minute format via App).  And GardCharge also has a built-in Over-Current Protection that cuts off the Power automatically to keep away sudden in rush of unnecessary high electric current due to battery charging abnormalities.  Moreover, GardCharge will detect when a charging process is complete, and cuts off the power afterward. And you may easily customize Count Down Timer, Over-Current Protection, and Charging Completion parameter values via App setting change.
With App running on a Android or iPhone, GardCharghe also provides Power Measurement info right on the App for you to monitor the on-going real-time voltage, current, power information in Meter Mode & Graph Mode so that you may  observe and understand better about the overall battery charging system's health characteristics.
And GardCharge can do more!  GardCharge may also be used as a "smart device enabler" for your dumb USB Adaptor or other dumb USB devices (such as an always-on USB LED Light or Fan) to make these dumb devices Smart with Smart Phone Control in no time.


Smart Charger


Smart Timer


Smart Remote

Meter Mode
iPhone X with wired and wireless charging at the same time?
iPhone X USB Cable Charging Test with GardCharge
Android Phone USB Cable Charging Test with GardCharge