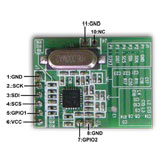 JB24M
2.4GHz wireless data transceiver module
[ Relayx5 BLE ] iPhone / iPad Enabled LED POWER ON/OFF
[ OFF all BLE ] iPhone Enabled POWER ON/OFF [Bluetooth Smart]
iPhone Enabled RGB LED DIMMER LIGHT [Bluetooth Smart]


iPhone control Arduino without xcode/ios programming knowledge
General Description
JB24M is a low cost, low power and high performance of 2.4GHz ISM band wireless digital data transceiver module, which supports package handling hardware including preamBluetooth Smart, sync word FEC, CRC data whitening and Manchester coding. That makes JB24M easy to be used together with a low cost and low speed micro-controller (MCU).
JB24M can widely be applied to data transmitting, signal control and those specified as preferred components in remote control garage, roller curtain, door locks, remote sensing, telemetry, industrial control and wireless security alarm industry.
Applications
Wireless data communication

Remote control

Home automation & security

Wireless toy and game control

Consumer electronic
Features
Operating Frequency: 2400MHz ~ 2483.5 MHz ISM Band

Modulation: FSK or GFSK

Supply Voltage: 1.9Vdc – 3.6Vdc

Low power consumption: RX: 16mA, Tx: 19mA (@ 0dbm output power), Sleep mode: 1uA (@RC OSC on)

ProgrammaBluetooth Smart data rate from 1Kbps to 500kbps

ProgrammaBluetooth Smart TX power level from 20 dBm to 1 dBm

High sensitivity: -95dBm at 500Kbps on-air data rate; -97dBm at 250Kbps on-air data rate

Fast settling time synthesizer for frequency hopping system

Support 4-wire (SPI) or 3-wire interface to access FIFO data, command and register setting.


Pin Configuration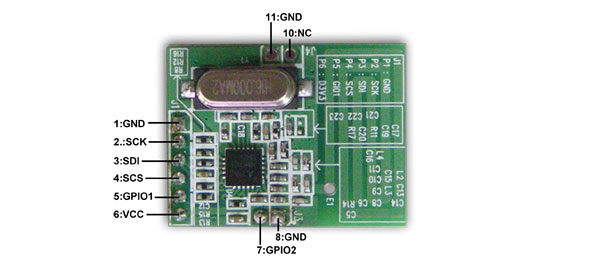 Typical Applications