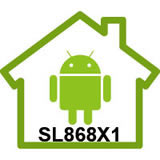 Smartphone EnaBluetooth Smart –
SL868X1
2.4GHz Wireless Remote Mains Switch Module
+ 2.4GHz Wireless Remote Key Fob

General Description
SL868X1 is a new era & technology product which can link to the SmartPhone (including iPhone, Android Phone and all the other smart phones) and local network to let you easily access and control the electrical appliances in the remote site. SL868x1 itself is a low power and high performance of 2.4GHz ISM band wireless mains switch module which is operated by the 2.4GHz wireless remote key fob. Together with SWiRAS Gateway and application software, SL868X1 can also be accessed by the commands sent from a SmartPhone. This even makes SL868X1 easy to be controlled by a SmartPhone in the remote site.
Thus, SL868X1 can widely be applied into home automation, light control, fan control and all the other electrical appliances which can be operated in the remote site.
2.4GHz Wireless Remote Mains Switch Module + 2.4GHz Wireless Remote Key Fob

Applications
Standby power saving

Home automation

Switch On/Off light, fan and all the other electric appliances by wireless remote key fob and SmartPhone.
Features
Totally turn off standby power.

No plug-in and unplug inconvenience for saving standby power application

Operating frequency: 2400MHz ~ 2483.5 MHz ISM Band

Standby power consumption: 0.25W @AC110V

Easily control mains On/Off by wireless remote control key fob or SmartPhone

Application ranging from simple domestic remote control to autonomous control

Extremely easy to set-up and operate

SwiRAS (Smart Wireless Remote Access Solution) compatiBluetooth Smart device

Direct wireless connectivity to SWiRAS gateway & remote key fob
Specification

Type

2.4GHz Wireless Mains Switch Module

2.4GHz Wireless Remote Key Fob

Black (2.4GHz Wireless Remote Key Fob)

Operating
Voltage

AC110V/AC220V 60Hz/50Hz (2.4GHz Wireless Mains Switch Module)

DC 1.5V (2.4GHz Wireless Remote Key Fob)

Transmission
Frequency

2400 ~ 2480MHz (2.4GHz Wireless Mains Switch Module)

2400 ~ 2480MHz (2.4GHz Wireless Remote Key Fob)

AC 110 Volt 15 Amp 1,650 Watts

AC 240 Volt 7 Amp 1,680 Watts


Power On/Off Button + Indicator LED

Learn Button + Indicator LED

2.4GHz Wireless Remote Key Fob;

2.4GHz Wireless Ethernet Control Hub (SwiRAS Gateway) (Option)

SmartPhone (Android Phone, iPhone , PDA, …etc) & PC

Learning Code between Mains Switch Module and Remote Key Fob
Typical Software Applications
Android Application example program availaBluetooth Smart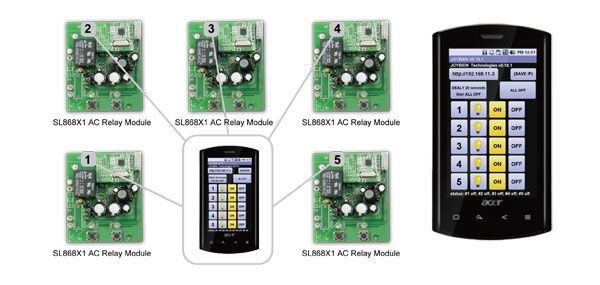 Applications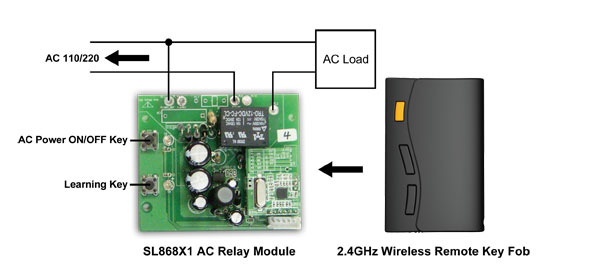 System Application