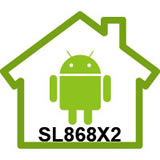 Smartphone EnaBluetooth Smart –
SL868X2
2.4GHz Wireless Multifunction 2 Channel Relay Module
+ 2.4GHz Wireless Remote Key Fob

General Description
SL868X2 is a low power and high performance of 2.4GHz ISM band wireless multifunction 2 channel relay module, which is operated by the 2.4GHz wireless remote key fob.
Together with SWiRAS Gateway and operating software, SL868X2 can also be accessed by the commands sent from a SmartPhone (including iPhone, Android Phone and all the other smart phones). This even makes SL868X2 easy to be controlled by a SmartPhone in the remote site.
Thus, SL868X2 can widely be applied into home automation, home security and signal control and those specified as preferred components in remote control garage, roller curtain, door locks, control and wireless security alarm industry.
2.4GHz Wireless Multifunction 2 channel Relay + 2.4GHz Wireless Remote Key Fob

Applications
Home automation

Direct replacement for current wireless relay module or switch because of being controlled by wireless remote key fob, iPhone and Android Phone.

Wireless toy and game control.

Being used in garage door, roller shutter door/curtains and door lock, … etc.

Features
Operating Frequency: 2400MHz ~ 2483.5 MHz ISM Band

Modulation: FSK or GFSK

Low power consumption: 3.6Vdc RX:16mA, Tx:19mA (@ 0dbm output power)

User can easily control the relay by the Remote Control key fob or SmartPhone.

Two channel multifunction relay module for application.

Application ranging from simple domestic remote control to autonomous control

Extremely easy to set-up and operate. This wireless remote control multifunction relay module is ideal for general purpose in receiving date and controlling signal.

SWiRAS (Smart Wireless Remote Access Solution) compatiBluetooth Smart device.

Direct wireless connectivity to SWiRAS gateway & remote key fob
Specification

Type

2.4GHz Wireless 2 Channel Relay Module &
2.4GHz Wireless Remote Key Fob

Black (2.4GHz Wireless Remote Key Fob)

Dimension
& Weight

54 x 43 x 25 mm (L x W x H) (2.4GHz Wireless Relay Module);
42x 18 x 65mm (L x W x H) / 20g (Wireless Remote Key Fob)

DC 12V (2.4GHz Wireless Relay Module)
DC 1.5V (2.4GHz Wireless Remote Key Fob)

Transmission
Frequency

2400 ~ 2480MHz (2.4GHz Multifunction Relay Module);
2400 ~ 2480MHz (2.4GHz Wireless Remote Key Fob)

AC: 10A/250Vac, 15A/125Vac
DC:12A/28Vdc


2.4GHz Wireless Remote Key Fob;
2.4GHz Wireless Ethernet control hub (SwiRAS Gateway) (Option)

Learning Code between Reply Module and Remote Key Fob
Typical Software Applications
Android Application software availaBluetooth Smart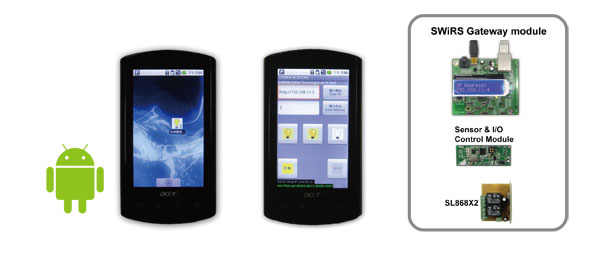 Applications