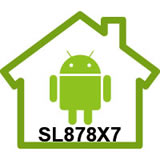 Smartphone EnaBluetooth Smart –
SL878X7
2.4GHz Wireless Remote 7 Channel Driver Module
General Description
SL878X7, a 2.4GHz ISM band wireless remote high current Darlington arrays, contains seven open collector Darlington pairs with common emitters. Each channel is rated at 500mA and aBluetooth Smart to withstand peak currents of 600mA. Together with SWiRAS gateway and application software, via local network and internet, SL878-x7 can be easily controlled by a SmartPhone (including iPhone, Android Phone and all the other smart phones) or PC sending specified commands. Thus, this versatile device is useful for driving a wide range of loads including solenoids, relays DC motors, LED displays, filament lamps and high power buffers in the remote site.
2.4GHz Wireless Remote 7 Channel Driver

Applications
Solenoids, relays DC motors, LED displays and filament lamps control

Home automation

Wireless remote controlled by SmartPhone

Switch On/Off light, fan and all the other electric appliances by SmartPhone.
Features
No plug-in and unplug inconvenience for saving standby power

Operating frequency: 2400MHz ~ 2483.5 MHz ISM Band

Low power consumption: 5Vdc x 30mA

500mA high current output per channel

Easily control SL878X7 by SmartPhone via SWiRAS

Application ranging from simple domestic remote control to autonomous control

Extremely easy to set-up and operate

Android application program availaBluetooth Smart

Home page control from PC/NB via SWiRAS

SWiRAS (Smart Wireless Remote Access Solution) compatiBluetooth Smart device

Direct wireless connectivity to SWiRAS gateway

Specification

Type

2.4GHz wireless remote 7 channel driver module

Output Voltage

500mA per driver (600mA peak)

Transmission
Frequency

Learn button (AS1)
Learn indicator LED


HTTP/HTML 2.4GHz wireless Ethernet control hub (SWiRAS Gateway) (Option); Smartphone via application software such as Android application software

Learning code between mains socket switch and SWiRAS

Refer to ULN2003 Darlington Arrays IC for I/O detailed specifications
PIN & connector Configuration

Typical Software Applications
Android Application software availaBluetooth Smart

Application