mmWave Radar
mmWave Solution bridges Hardware & Software World together with Simplicity

Joybien Batman BM201 mmWave EVM Kit is a Texas Instruments (TI) IWR6843 ASIC based millimeter-wave (mmWave) Kit with Frequency-Modulated Continuous Wave (FMCW) radar technology capable of operation in the 60GHz to 64GHz band with up to 4 GHz continuous chirp, using 3 Transmission Antennas and 4 Receiving Antennas, for sensing target object's range, velocity, and angle parameters.
Batman BM201 mmWave EVM Kit is with a small and compact mmWave Module (with low-power, self-monitored, ultra-accurate, and lighting condition independent versatilities), along with a Pi-Hat Board for simple and direct connectivity to a Raspberry Pi or NVIDIA Jetson Nano computer, suitable for various applications including: Education, Engineering, Science, Industrial, Medical, and Business & Consumer.


Applications

Education's Practical Radar Introduction
Engineering & Science's Motion Detection, Displacement, etc.
Industrial sensor for Displacement & Safe Guard, Factory Automation, Robotics, etc.
Building Automation sensor for Occupancy Detection, Proximity & Position sensing, People Counting, Security and Surveillance
Business' Traffic Monitoring, and Proximity Advertisement

Long-Range People Detection (LPD)
The Kit's mmWave Module is built-in with Long-Range People Counting Firmware; for a contactless and wearableless real-time detection of people movement from 1 meter to 50 meter range for various applications that require people sensing or counting without privacy invasion.





Batman BM201 EVM Kit + NVIDIA Jetson Nano / Raspberry Pi

Batman BM201 EVM Kit + NVIDIA Jetson Nano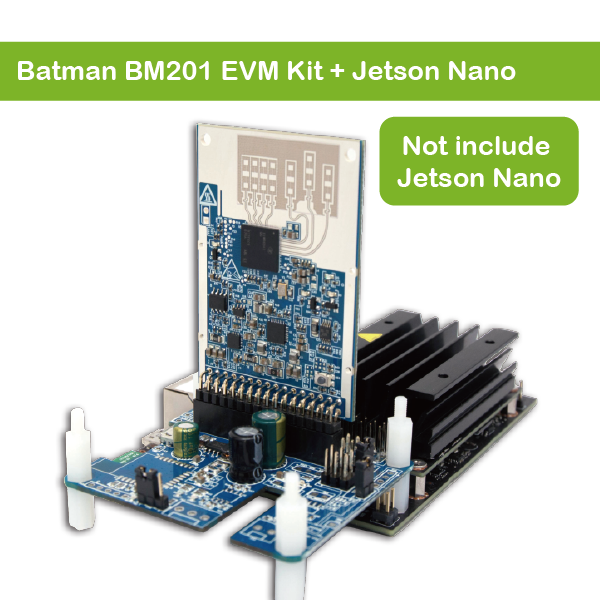 Batman BM201 EVM Kit + Raspberry Pi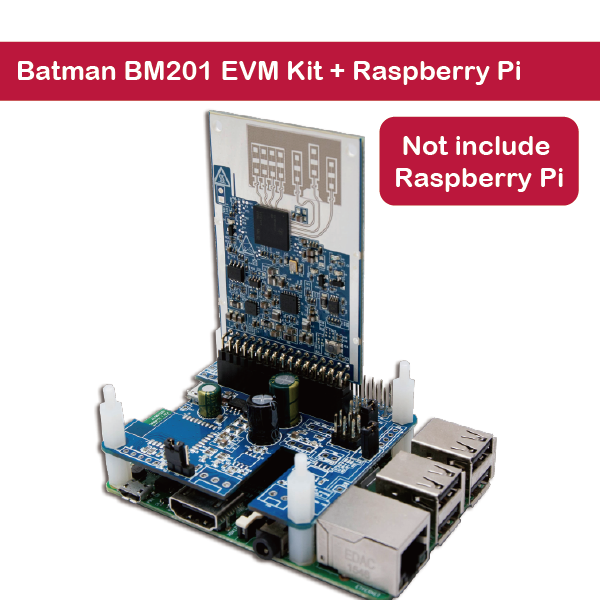 Selection:Key Data Mode or Raw Data Mode Application
Operating Frequency

60GHz to 64GHz Coverage
with 4GHz continuous bandwidth

Antenna
3 Tx and 4 Rx Antennas on Module, with:
TX Power: 10 dBm
RX Noise Figure: 14 dB
Processors
ARM R4F based MCU and C674x DSP
for advanced signal processing
On-Chip Memory
Internal Memories
Input Power
Batman BM201-LPD EVM Kit includes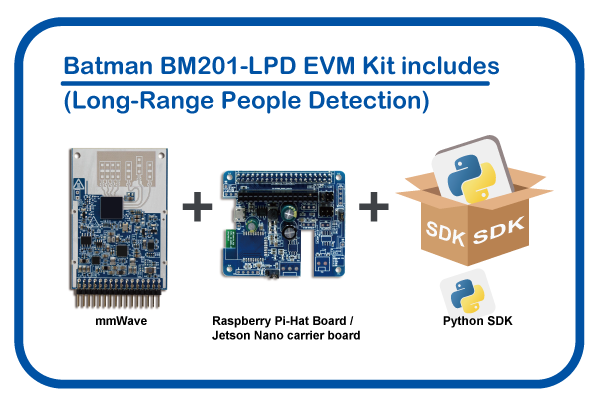 Specifications mmWave Sensor Evaluation Module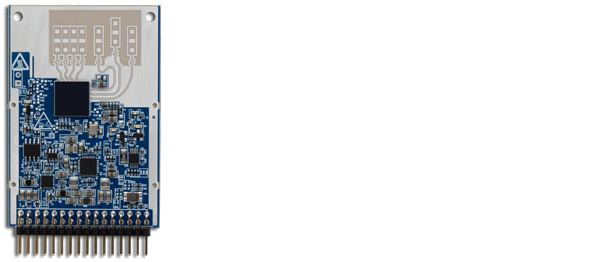 mmWave ASIC

TI IWR6843 Single Chip mmWave Sensor

Integrated PLL, Transmitter, Receiver, Baseband, and A2D
60GHz to 64GHz Coverage With 4GHz Continuous Bandwidth
Four Receive Channels
Three Transmit Channels
Ultra-Accurate Chirp Engine Based on Fractional-N PLL
TX Power: 10 dBm
RX Noise Figure: 14 dB
Phase Noise at 1 MHz: –92 dBc/Hz
Antenna Type : ISK Antenna

Built-in Calibration and Self-Test (Monitoring)

ARM® Cortex® -R4F-Based Radio Control System
Built-in Firmware (ROM)
Self-calibrating System Across Frequency and Temperature

DSP

C674x DSP for Advanced Signal Processing

On-Chip Memory
MCU

ARM R4F Microcontroller for Object Detection, and Interface Control
Joybien mmWave Protocol (Per configuration)

I/O

Up to 6 ADC Channels (low sample rate monitoring)
Up to 2 SPI Ports
Up to 2 UARTs
I2C – GPIOs

Power Management

Built-in LDO Network for Enhanced PSRR
I/Os Support Dual Voltage 3.3 V/1.8 V

Clock Source
Antenna Orientation

4 receive(RX) 3 transmit (TX) antenna with 108° azimuth field of view (FoV) and 44° elevation FoV

Input Power
Operating Temperature
& Humidity

0° to 40° degree Celsius
10 ~ 85% Non-Condensing

Dimensions & Weight

67mm x 46mm x 2mm ; 15 grams net
Raspberry Pi-Hat Board /Jetson Nano carrier board


Connector

Matching mmWave Module Female Connector
Matching Raspberry Pi GPIO Female Connector
Micro USB Power Connector
Jumpers for Bluetooth Tx/Rx or Raspberry Pi Tx/Rx Selection
Jumper for mmWave Raw Data or Key Data Selection

Joybien JBT24M Bluetooth Low Energy Module
Micro USB Input Power
5VDC, 2Amp.
(Note: Power Adapter and Micro USB Cable NOT included)
Operating Temperature
Operating Humidity

0° to 40° degree Celsius
10 ~ 85% Non-Condensing

Dimensions & Weight
Python SDK (Python SDK upon request)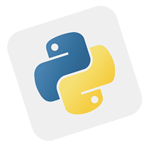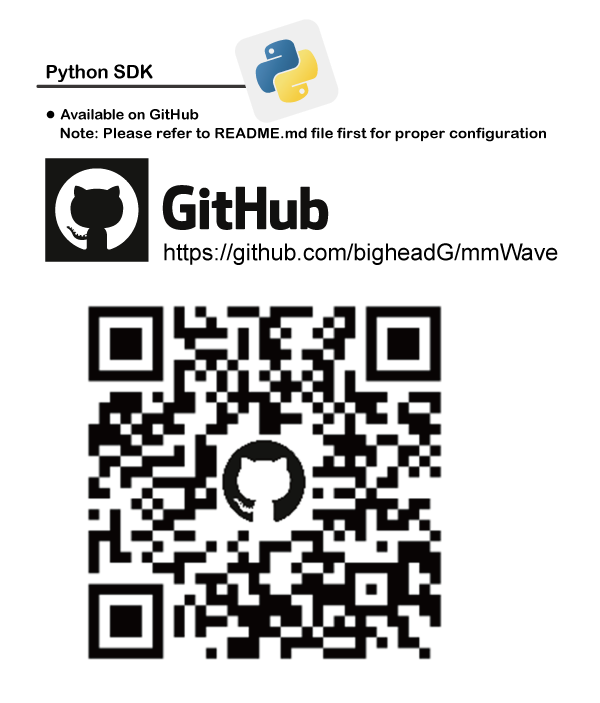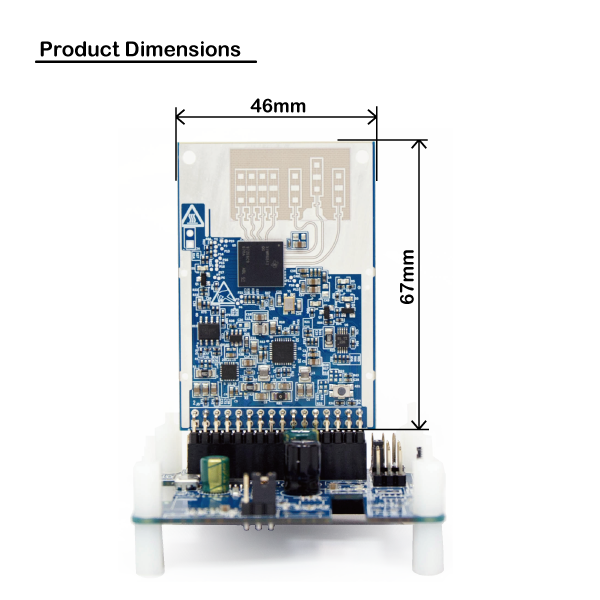 Appendix: Joybien mmWave EVM Kit Application Solution Selection


(BM201-VOD)

Zone Occupancy Detection

For plotting a Range-Azimuth-Heatmap with a 64 x 48 Grid Matrix covering: Range of 3 meter / 64 row (approx. 0.047 meter per row) x Azimuth of 108 degree / 48 column (approx. 2.3 degree /column). Subsequently a programmer may write code to group the Grid(s) into Zone(s) for detecting whether the particular Zone(s) is occupied by Target(s); suitable for vehicle occupancy detection or for occupancy detection for an area of around 3 meter x 3 meter.


(BM201-LPD)
Long-Range People Detection

For a contactless and wearableless Long-Range People Detection (LPD) of 1 meter ~ 50 meters (about 3 ~ 164 feet), for various applications that require people sensing or counting without privacy invasion.

(BM201-PC3)

People Counting & Detection

For a wireless People Counting & Detection in 6 x 6 meter or 36 square meter area (or about 387.5 square feet), for various applications that require people sensing, people counting, or people occupancy density estimation without privacy invasion.

(BM201-TMD)

Traffic Monitoring Detection

For detecting moving objects (such as vehicles) in 5m ~ 50m with FOV of approx. +/- 54 degrees with Position X&Y, Velocity X&Y info. And based on the detected data, a programmer may write a program to define virtual Zones, for mapping objects (vehicles) moving in and out of certain Zones for traffic monitoring applications.

(BM201-VSD)

Vital Signs Detection

For a contactless and wearableless human Vital Signs Detection (VSD) with real-time Heartbeat Rate & Respiration Rate data, for range of 30cm ~ 90cm (about 1~3 feet); along with Status Indicator for sensing the presence of a person, as well as the measurement stability, and whether the person is present but without Vital Signs.

(BM201-HAM)

High Accuracy Measurement

For a wireless High Accuracy Measurement (HAM) of an object distance with range of 30cm ~ 3 meters (about 1~10 feet), having millimeter measurement resolution.

(BM201-FDS)

Fall Detection Sensing

For wireless sensing of people-fall-detection along with people movement & tracking in 3-Dimensional region covering 6m x 6m area without privacy invasion. The sensed people behavior data are with Position X/Y/Z, Velocity X/Y/Z, and Acceleration X/Y/Z parameters suitable for people movement analysis such as standing, sitting, lying down or falling down positions.
Copyright ©2023 , Joybien Technologies Co., Ltd.
Joybien reserves the right to make changes without further notice to and products herein. Joybien makes no warranty, representation or guarantee regarding the suitability of its products for any particular purpose, nor does Joybien assume any liability arising out of the application or use of any product or circuit. Joybien's products are not to be used in life support devices or systems, if a failure of an Joybien's product can reasonably be expected to cause the failure of that life support device or system, or to affect the safety or effectiveness of that device or system.


Note:
NVIDIA logo, and Jetson Nano are trademarks and/or registered trademarks of NVIDIA Corporation.ducation's Practical Radar Introduction
Raspberry Pi logo and Raspberry Pi 4 are trademarks and/or registered trademarks of Raspberry Pi Foundation.
"Python" is a registered trademark of the PSF.
This EVM Kit does not include Raspberry Pi computer, nor NVIDIA Jetson Nano computer.
Please contact us at Joybien in advance for BM201 commercial application for mass production.